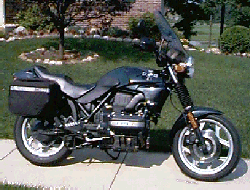 Our motorcycling started off in 1993. Keith hadn't thrown a leg over a motorcycle since a friend's dirt bike in high school, and Katie had no experience whatsoever, but we came across a deal we couldn't pass up -- a 3-month-old, '93 BMW K75, with fewer than 2000 miles on the ticker, at well below market price. The K75 is a smooth and powerful bike; a shaft-driven, 750cc, in-line 3-cylinder job in a beautiful metallic, charcoal black color. Keith got a motorcycle endorsement for his license, and we were off.
At some point Katie started thinking she would like to try a bike of her own, rather than ride pillion all the time. So, we found a really good deal on a nice little Yamaha 250 single-cylinder street bike that was perfect for practicing. Both of us attended the Motorcycle Safety Foundation's three-day course for beginning riders (which we highly recommend for all motorcyclists, regardless of age or experience -- Keith has since attended the MSF's Experienced Riders Course, as well). After Katie got her own motorcycle endorsement, she was pretty soon hitting the showrooms looking to trade in the little bike on something new.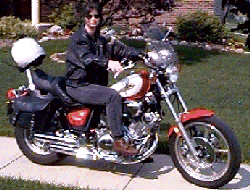 Katie ended up getting a new, gorgeous red-and-white '95 Yamaha Virago, a fairly large 750cc V-twin cruiser with lots of chrome. It's a very reliable, shaft-driven bike with good power. It came fitted with saddle bags, a wind screen, crash bars, and some other various little chrome knick-knacks. Katie rode it around for a year or so, but eventually decided that, all in all, she had more fun riding as a passenger on our outings. So, she sold the bike to our brother-in-law, who now accompanies us on some of our rides. Katie's back to riding pillion with Keith.
The K75 was a great bike for commuting, and for riding around the local countryside. As a "naked" bike, however, even with a bunch of minor farkles we added, it wasn't truly set up for any serious long-distance riding. So, in early 2003, we sold the K75 to a riding buddy, and purchased a new K1200GT. In metallic silver-green, our GT was a new BMW model for the 2003 year, trying to fill the void between the big K1200RS sport bike and the K1200LT luxury touring model. It pretty much does the job, but the specs fall closer to the RS than to the LT and, overall, the GT is a bit sportier than what those who were waiting for a "K-RT" model might have wanted. In effect, it's a K1200RS with a wider fairing, a heated seat and grips, a taller, adjustable windshield, electronic cruise control, and color-matched system bags. It loses the adjustable handlebars of the RS, but the fixed position is pretty close to the RS bars in their rear-most setting.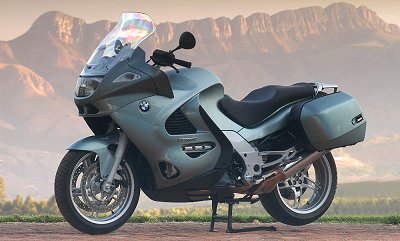 At least for us old pharts, the GT is scary fast -- accelerating, turning, and especially stopping (via its "whizzy brakes" system). It steers effortlessly, compared to the K75, and the forward-leaning riding position, about which Keith was a bit apprehensive, actually is amazingly comfortable for extended times and distances. Katie especially appreciates the GT's heated seat. Of course, as farkle addicts, we've made some additions and modifications to the basic bike, to improve comfort, utility, and conspicuity. The original K-GT model has been supplanted over the last few years by three successive versions, each lighter, quicker, and more powerful than the previous, but the old "brick"-type horse still gets us where we need to go with a minimum of hassle and a maximum of fun.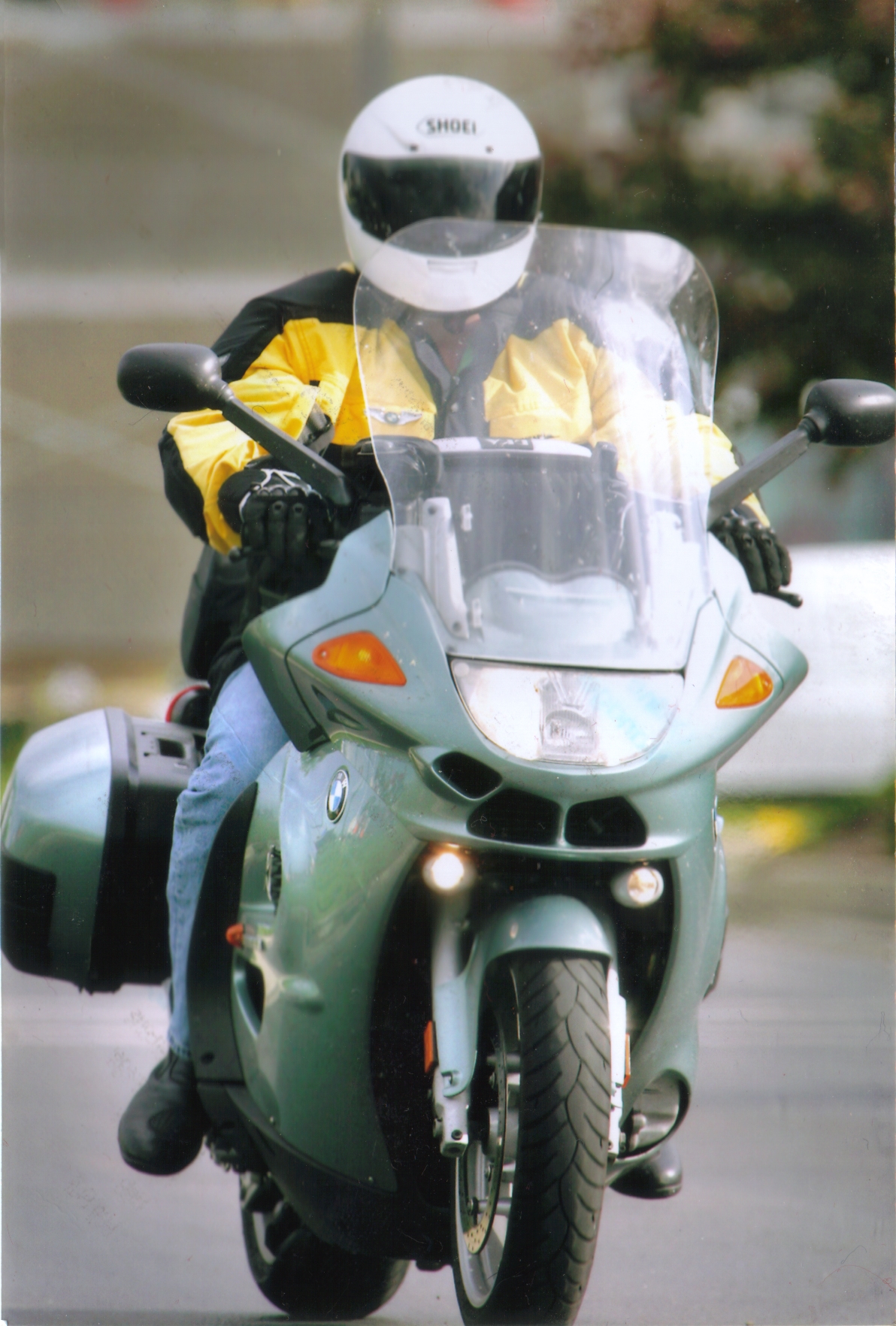 Our typical riding has evolved over the years. At first, we did a lot of couple-hours to day-long trips around Ohio with a local club. Saw a bunch of neat stuff, and had some great lunches with fun people. Keith fell in with a few folks who were not at all afraid of some long-distance hauling, though, and our riding has leaned more and more in that direction as time passes. Now, a ride of several days to two weeks is more common, covering thousands of miles and double-digit numbers of states (or provinces -- and, five countries in Europe). The BMW MOA International Rally is a pretty-much regular destination, now, as is the IBMWR's Blitz to Branson every spring. We usually get one or two long-distance, personal-destination trips in every summer, as well, like the Texas hill country, Key West, the Blue Ridge and Natchez Trace parkways, the gulf shore, the New England states, etc.
---

The Top Ten Cool Things About Having a Motorcycle
That Goes Faster Than the Speed of Light:

      10)  Sleep 'til noon, still get to work by 8:00am!
       9)  Doppler shift makes red traffic lights look green.
       8)  Breaking the laws of physics is only a misdemeanor
           in most states.
       7)  You'll be so thin while riding that you can even
           wear horizontal stripes.
       6)  That deer in your headlights is actually behind
           you.
       5)  Traffic enforcement is limited to cops with PhD's
           in quantum mechanics.
       4)  You can make a fortune delivering pizza with the
           slogan, "It's there before you order or it's free!"
       3)  Your custom license plate reads:  Me = mc2
       2)  Cigarette butts don't hit your helmet-- they land
           in last week!
       
And The Number-One Cool Thing About Having a Motorcycle
That Goes Faster Than the Speed Of Light Is ...

       1)  Stephen Hawking keeps bugging you for a ride!
       
---
The rest of this page consists of some links that we check out when surfing, but of course you're free to use them as well.